Reach your local customers by advertising in The Archer
The Archer is the East Finchley community newspaper and is produced and distributed each month entirely by volunteers. We deliver it to over 10,000 East Finchley homes and businesses in the N2 postal code area, starting on the first weekend of each month.
We regularly receive positive feedback from right across the community. Our paper is read from cover to cover by most of our readers, who welcome our unique focus on East Finchley events, issues and features, in contrast to the other North London local papers. So if you want to share in our success, why not consider advertising in The Archer?
Adverts in The Archer are interspersed with the articles and pictures throughout the paper, rather than being consigned to back pages that carry only adverts.
Take a look at these mock adverts to see a few examples of the many different sizes and styles that we can offer. Alternatively you could look through any recent issue of The Archer to see examples of different adverts in practice.
Some example adverts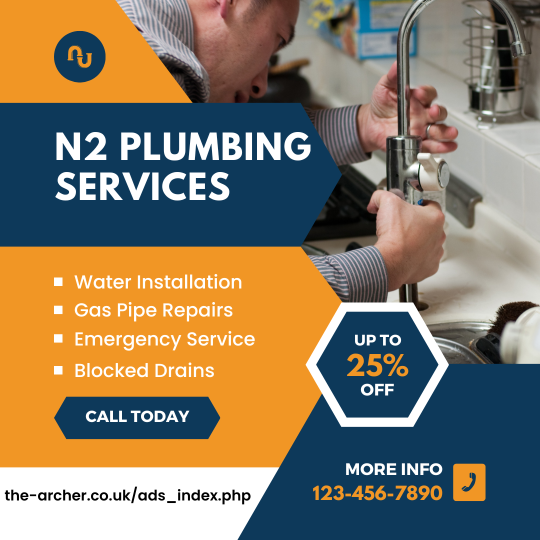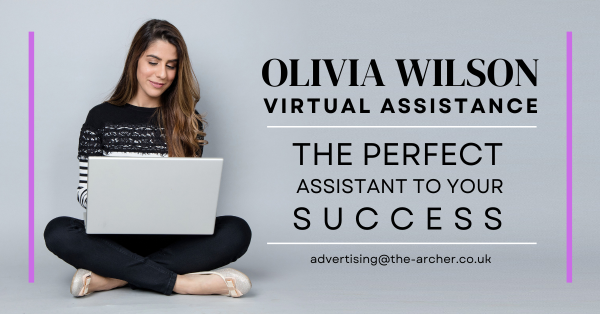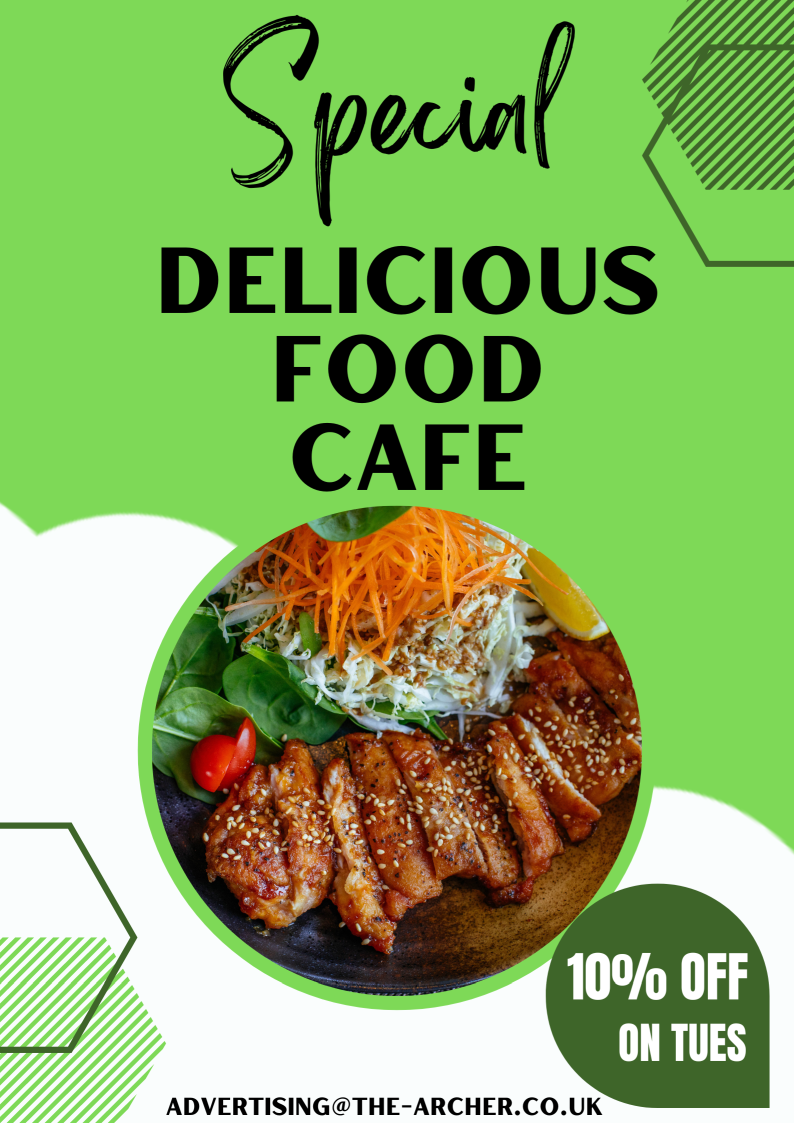 Advertising Sizes and Formats
As you will see from the following chart, our rates are very competitive, starting from &pound30 for a small, single column advert, with larger, multi-column adverts costing proportionally more, and with discounts for repeat orders.
If you are using a graphics designer then please supply them with the link to this page, pointing out the table below. We print in CMKY and all artwork can be provided as a JPG or PNG, but ideally a PDF.
We highly recommend if you designing yourself, that you do so in
Canva, a free online graphics design tool
. Below are the links to hundreds of templates in our standard formats;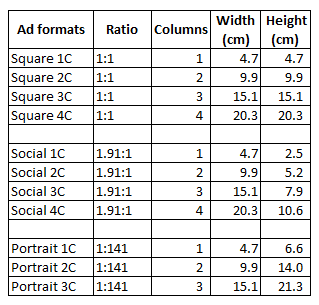 Reach your local customers by advertising in The Archer
Our current advertising rates are below. From September 2022 increased the rates for the first time in over 20 years, plus we have standardised the ad formats to 3 universal formats. This has led to simplified pricing, which we hope will make it easy for new advertisers to start advertising in The Archer.
Below is the table with the new costs, with each format (Square, Social and Portrait) split into up to 4 sizes. Each size follows the column sizes of the newspaper layout from 1 to 4 columns. These are also sizes commonly used for social media advertising, therefore a Facebook or Instagram ad can now be used in The Archer.
We always get great feedback from readers and advertisers alike. The Archer is a well likes newspaper that is only distributed in East Finchley, therefore your advert will be seen by over 20,000 readers per month, in the same are your business operates.
Front and back covers have a premium of 20% in addition to the rate card. However currently there is no space avalible on these pages for new advertisers.
Pricing Rate Card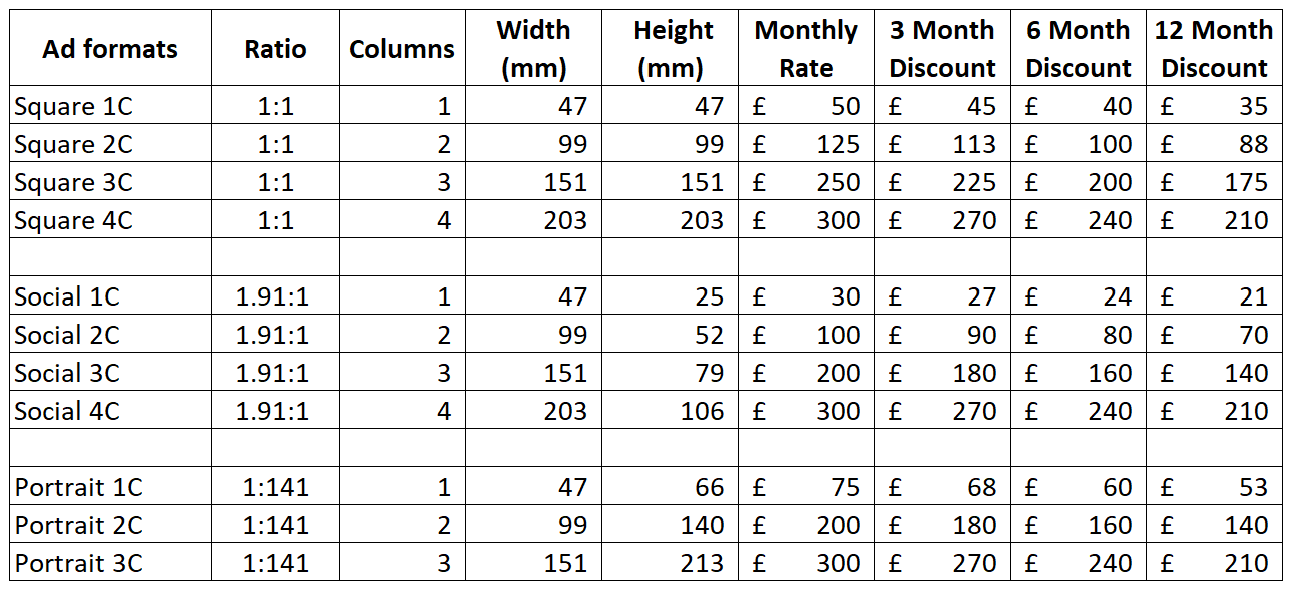 To advertise in The Archer
Contact us for advice and a quote without obligation:
The Archer advertising manager is Richard Tank
Please note that the copy deadline for each issue is 3 weeks before distribution commences, so to be sure that your advert is published in the month that you prefer, we advise that you contact us several days before the deadline. See below for current deadlines.
Deadlines
Forthcoming deadlines for acceptance of advertising copy are:
Issue
Deadline
Issue
Deadline
2023
December
10/11/2023
2023
December
10/11/2023
2024
January
15/12/2023
2024
January
15/12/2023
February
12/01/2024
February
12/01/2024
March
16/02/2024
March
16/02/2024
April
15/03/2024
April
15/03/2024
May
12/04/2024
May
12/04/2024
June
10/05/2024
June
10/05/2024
July
14/06/2024
July
14/06/2024
August
12/07/2024
August
12/07/2024
September
16/08/2024
September
16/08/2024
October
13/09/2024
October
13/09/2024
November
11/10/2024
November
11/10/2024